Revision Hip Replacement Surgery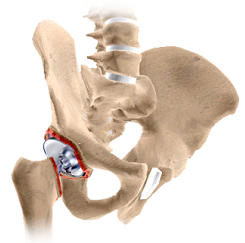 What is Revision Hip Replacement?
During total hip replacement, the damaged cartilage and bone are removed from the hip joint and replaced with artificial components. At times, hip replacement implants can wear out for various reasons and may need to be replaced with the help of a surgical procedure known as revision hip replacement surgery.
Revision hip replacement is a complex surgical procedure in which all or part of a previously implanted hip joint is replaced with a new artificial hip joint. Total hip replacement surgery is an option to relieve severe arthritis pain that limits your daily activities.
Indications for Revision Hip Replacement
Revision hip replacement is advised for the following conditions:
Increasing pain in the affected hip
Worn out plastic or polyethylene prosthesis
Dislocation of previous implants
Loosening of the femoral or acetabular component of the artificial hip joint
Infection around the hip prosthesis, causing pain and fever
Weakening of bone around the hip replacement (osteolysis)
Procedure of Revision Hip Replacement
Revision hip replacement is performed under general anaesthesia or spinal anaesthesia. During the procedure, your surgeon will make an incision over the hip to expose the joint. Then, the femur is dislocated from the acetabulum so that the old plastic liner and metal socket can be removed from the acetabulum.
After removal, the acetabulum was reconstructed using bone graft or metal augments to recreate the socket of the hip. The new metal shell is then inserted into the reconstructed socket using screws or bone cement. A liner made of plastic or ceramic is placed inside the metal socket.
The femoral component is then removed. It may require splitting of thigh bone removed the old metal implant. The split segment is then reassembled and attached to the thigh bone using wires and or a metal plate and screws. Bone graft may be required depending on the presence of any bony defect. The new stem is then implanted either by a pressfit mechanism or using bone cement. The femoral head component made of metal or ceramic is positioned on the femoral stem. The hip joint is reduced and checked to ensure that it is stable. The muscles and tendons are repaired and the skin incision closed.
Post-procedure Care for Revision Hip Replacement
After undergoing revision hip replacement, you must take special care to prevent the new joint from dislocating and to ensure proper healing. Some of the common precautions to be taken include:
Avoid combined movement of bending your hip and turning your foot inwards because it can cause dislocation.
Place a pillow between your legs while sleeping for 6 weeks.
Never cross your legs or bend your hips past a right angle (90 degrees).
Avoid sitting on a low chair.
Avoid bending down to pick up things; instead, a grabber can be used to do so.
Use an elevated toilet seat.
Risks of Revision Hip Replacement
As with any major surgical procedure, there are certain potential risks and complications involved with revision hip replacement surgery. The possible complications after revision hip replacement include:
Infection
Dislocation
Fracture of the femur or pelvis
Injury to nerves or blood vessels
Formation of blood clots in the leg veins
Leg length inequality
Wearing of the hip prosthesis
Failure to relieve pain